Every year, a good part of the profits allocated to "formation of new men and women" goes towards Sophia University Institute (around €200,000)
A thank-you from Sophia to the EoC
The thank-you letter written by the Dean of Sophia University Institute (IUS), Piero Coda, is dated June 15, 2010. Through the international commission, it is addressed to all the actors of the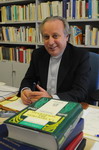 EoC project.
Piero Coda writes: "While the second year of our academic life at Sophia University Institute is now concluding, a sincere gratitude has made me want to write a big thank you to the members of the international commission and all of the EoC for the decisive contribution made to the birth and beginning of our journey. I send this in the name of the entire academic community: professors, staff and students.
The enormous sum that you have given to us, starting from 2007 (the year the institute was erected), €600,000, has built the foundation of revenue that, together with the initial financing of the Focolare Movement and a consistent contribution by private donors, has made it possible to face the costs of decorating the spaces and the essential instruments for carrying ahead academic life here as a whole (classrooms, library, offices, student residences, etc.).
Besides, the great majority of our students, coming from Latin America, Africa and Asia, are not able to count on adequate financial coverage for their studies, more than that of food and lodging. A part of your contribution was, therefore, given to the supply of the necessary scholarships to these students.
That has made it possible for our nearly 70 students, coming from 27 different countries and 25 different academic disciplines, to participate in our courses. About 30 of these, at the end of this second year, will receive a Masters in "Foundations and Perspectives of a Culture of Unity", either in the philosophical-theological track or the economic-political track, and will be able to return to their countries of origin with a precious wealth of scientific qualification and essential experience and inspiration.
The synergy that has therefore been concretized between the EoC and IUS - that includes a particular field of research and excellence in the mosaic of studies proposed by the institute - seems to us to be walking towards that reciprocal integration between our experiences. This is what we also understood from the projection of both which burst forth from the charismatic intuition of Chiara Lubich. We thank you warmly for your support and friendship, which stimulate and encourage us to take on and promote, with efficiency and foresight, the project of the university. As Stefano Zamagni wrote to Chiara Lubich in 2005, this university can and must become an important pillar in building the civilization of love, which the EoC is committed to incarnating in its specific area of competence."