Caelison Lima de Andrade: the first student of Sophia University Institute to reach the finish line with a Degree, with a thesis on the EoC
An historical day at Sophia
By Daniel Fassa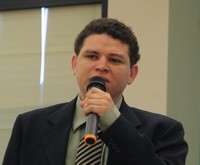 There is celebration at Sophia University Institute. On June 28, 2010, the Brazilian Caelison Lima de Andrade was the first graduate in the history of the institution. Not only that. He reached this success overcoming the challenge of being blind. In front of the great hall filled with classmates and members of the academic community and staff, Caelison presented the results of his research on the theme "The Relationship between Extrinsic and Intrinsic Motivation in Contemporary Economic Theory: the contributions of the theory and praxis of the Economy of Communion in Freedom project". Professors Luigino Bruni and Vittorio Pelligra were respectively thesis chair and co-chair.
Piero Coda, Dean of the University, was present at the graduation, and he wanted to renew the pact of reciprocal love with everyone present - an essential part of the formative project of life and study at Sophia. He added, "The emotions today are not only those of the candidate but of everyone in the academic community. It is a simple moment in its solemnity and a solemn moment in its simplicity". Luigino Bruni, thesis chair, thanked Caelison for the "serious, rigorous work done with much commitment and in a heroic timeframe". Benedetto Gui and Vittorio Pelligra, not being able to be present, sent a beautiful letter presenting Caelison.
With his thesis, Caelison tried to demonstrate the importance of an aspect that, until the 1970s/1980s was ignored by economists: the influence of personal motivations in economic choices. His work took off from the question of economist Bruno Frey, whose thought is the object of the first chapter: "Do people behave only because they are moved by the desire to obtain a monetary gain? Do they work just because they are paid to do so?"
In the second chapter, Caelison highlighted a particular type of organization in which intrinsic motivations are essential: Organizations with Ideal Motivations (OMIs). The third and final chapter presents the results of the empirical research in businesses of the Economy of Communion in Freedom project (EoC), inspired by the thought of Chiara Lubich.
The thesis, together with optimum academic performance, guaranteed Caelison a great of 94/100 and the title of Master in Foundations and Prospects of a Culture of Unity. The ceremony concluded with the reading of a letter of congratulations from Maria Voce, Vice Grand Chancellor of Sophia University Institute and President of the Focolare Movement: "For me and for the Work of Mary, this moment of achievement of the first student graduate of Sophia is reason for great joy and pleasure, the crowning of a serious and demanding formative journey. My heartfelt congratulations to the new graduate."
See video