The International Association for the Economy of Communion (AIEC) has made a scholarship available for a research project, which will last a year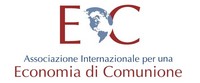 On the instructions of the International Commission for the Economy of Communion (EoC), the International Association for the Economy of Communion (AIEC), is making a scholarship available for a research project, lasting one year (but renewable the second year), whose objective is to assess the impact of the aid projects for the poor, realized thanks to the shared profits of the EoC businesses.
Requirements:
The competition is aimed at young people who are attracted by the goals of the EoC project and, at the same time, who also have acquired, through their studies, competences in empirical research empirical and in quantitative analysis, as well as a proficient knowledge of English. It would be preferable (but not indispensable) to have a Doctorate in research or, alternatively, a specialized degree in social sciences with a quantitative approach.
Conditions offered:
The scholarship has a value between € 12.000 - 18.000 annually (according to the seniority /the scholarship recipient and the logistical costs of the research study); at the end of the first year, there will be an evaluation of the work done, a necessary condition for its renewal for the second year.
The main site for the research project will be the Department of Economy of the Sophia University-Institute (Incisa Valdarno, Italy), but one or more trips will be necessary to the sites where the assistance projects of the EoC mainly operate (for example, Brazil, Philippines).
The academic framework of the research project can be a post-doctorate study, in case that the candidate already has a doctorate; otherwise, if the candidate wishes, the scholarship can be used to do doctoaral studies at the IUS. Supervision will be provided by Prof. Luigino Bruni and Luca Crivelli, to whom the candidtate will refer to for the research design, to give an account of the activities conducted, the discussion of the data gathered and the development of the empirical analysis.
Any individuals interested in applying are encouraged to write a letterin which they mention their strong points, explain why they are interested in the scholarship and why they feel that they are suitable candidates to conduct this research study.
Scholarship deadline: 31 March 2012
To fill out the application, download complete scholarship