From the origins of the EoC, through the meaning of "communion" in economy to and ending with a dialogue with entrepreneurs: a very promising start to the school in course at Mariapolis Ginetta
by Ana Cassiópia, Regina da Luz Vieira and Rodrigo Apolinário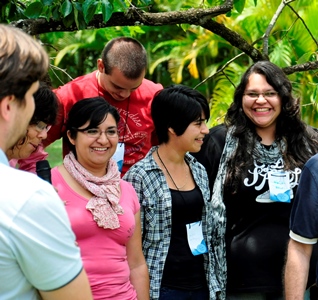 The Inter-American School of the Economy of Communion (EoC) for youth has now started. About 60 participants came to the Mariapolis Ginetta (Vargem Grande Paulista- Sao Paulo, Brazil) from various Latin American countries, such as: Argentina, Mexico, Colombia, Bolivia, Guatemala, Cuba and Brazil, as well as a European representation of the International EoC Commission. A "school of life" where everyone, this week, is committed to building first of all an experience of communion.
The opening reflection was on "The Origins: the EoC arises from a charisma". Andréa Cruz, who holds a PhD in Religious Studies and is a member of the International EoC Commission, recalled the historical context in which the EoC was born and highlighted the central thought and innovative practices that introduce new relationships in the economic system by starting from "agape-like love".
'The EoC was born in this Mariapolis and was placed in the context of the Focolare Movement - remembered Andréa Cruz - it is therefore an expression of a charisma and is like a response to some historical and social questions, to ensure that companies contribute to overcoming inequalities, not limiting themselves to the material dimension alone".
A collective dynamic induced by the musician Nani Barbosa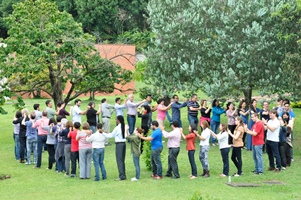 led the participants into harmony with each other and with the nature surrounding Mariapolis Ginetta, as they were practicing listening, stimulated by the verses of Rubem Alves entitled "Escutatoria".
In the afternoon Vittorio Pelligra, a professor at the Sophia University Institute of Loppiano and at the University of Cagliari, posed three questions: "What does it mean to live communion in the economy? Who are called to implement it? How do EoC businesses live communion?" 'Man - he stated - is a relational being and therefore it is impossible to think of him dissociated from relationships with others." And he presented experiments and research results broken down by age and by stage of development that have highlighted the motivations and values ​​of the culture of sharing. 'The vocation of the EoC enterprises - he added - is to bring out the best in each person, by creating spaces for sharing, empathy and equality."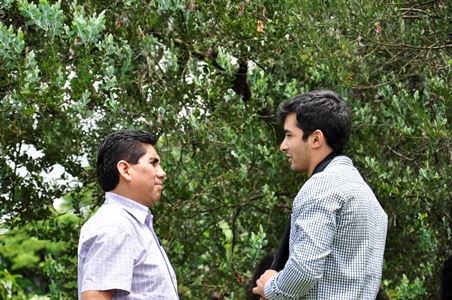 This first day was closed by a round table discussion with entrepreneurs from various countries in dialogue with young people giving way to a rich exchange of experiences and reflections on current issues and future prospects of the EoC, touching ethical questions, different choices and implementations of the EoC in Latin America.
In conclusion, the entrepreneur Armando Tortelli from Parana (South Brazil) highlighted the importance of an alliance with civil organizations that are equally committed to the reduction of social inequalities and the renewal of society.