In a live contact with initiatives of communion and solidarity as a response to social inequalities
by Ana Cassiópia and Rodrigo Apolinário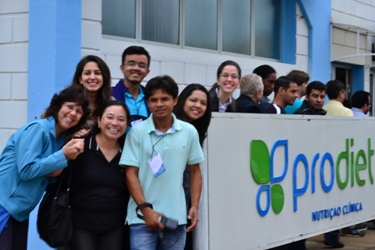 An opportunity to get closer to the "practice" of the 'Economy of Communion: this is what the participants of the Inter-American EoC School, in course at the Mariapolis Ginetta, have experienced during the third day of school, on Wednesday 28 October. During the day the story of the EoC Spartacus was covered again and it was possible to visit it and also to get to know the city of Sao Paulo and its socio-economic inequalities.
The morning program began with the screening of a documentary describing the motivations and difficulties related to the acquisition of the area and the construction of Polo Spartaco (Spartacus Business Park), located in the municipality of Cotia, about four kilometres from the Mariapolis Ginetta.
After that, "old" and new EoC entrepreneurs shared their experiences of daily work inside the Polo. Immediately after that, all participants of the school were divided into groups,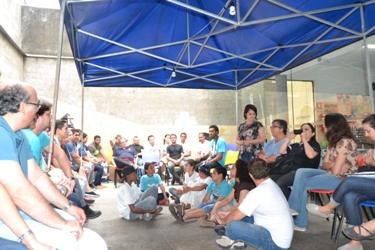 and got a chance to get to know the existing structures, to interact with employees and directors and ask questions. "It's been great to get such a close look at this new form of relationships within the world of work. I was given a sense of the conviction of leaders and workers with which they embraced the economy of communion, and how much they feel for this new culture." That's how Brazilian engineer Luciano Muller from Cornélio Procópio, Paraná expressed his feelings.
Second part: Sao Paolo. The group visited the Avenida Paulista, one of the points of major economic concentration in Brazil, the large Ibirapuera Park, and then had a stop-over in a very different context, in the outskirts of the metropolis, the district of Pedreira where an NGO called Afago, has been engaged in educational and socio-cultural activities with children and adolescents for years. An initiative launched in the '70-ies by young people of the Focolare Movement, in response to an appeal by Chiara Lubich in favour of the most disadvantaged people, commonly known as "to lay down your life for your own people."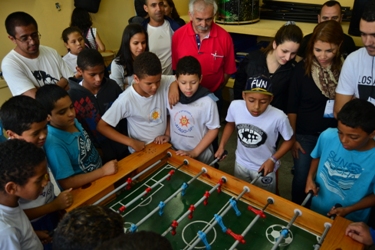 The children's choir that welcomed the group to Pedreira was very touching for everyone. The interaction and dialogue with the managers and employees of the NGO as well as the children and adolescents themselves was very intense and it allowed us to get to know the history and experiences of those, too, who go there as volunteers, in addition to their work, together with the community of the district, helping in the construction or renovation of houses for families in need.
"We have seen how love can transform the social reality of a community starting from concrete actions of solidarity. I was very impressed how happy the kids are when they welcome visitors and they observe that they, too, have something to give," said Juan Pablo Bueno from Puebla (Mexico). It was a particularly enriching day, as felt by all, and for many it was also "an injection" of hope.