On August 23, 2017 Lawrence Chong presented EoC in Melbourne: very positive feedback despite the wide range of backgrounds of people attended
by Lorraine Lipson and Mark Kelly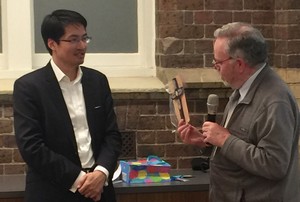 The presentation was a fruit of the relationships built between members of the New Humanity - EoC Melbourne group with the Social Policy Connections group lead by Fr Bruce Duncan, Director of the Yarra Institute for Religion and Policy and the desire of that group to learn more about the EoC. The EoC Melbourne group invited Lawrence Chong, an EoC entrepreneur based in Singapore to come and present on the history of the EoC and the journey of his company, Consulus, in living for unity and communion.
Despite freezing cold and pouring rain, 51 people braved the conditions and filled the venue. More than half were
attending their first Focolare event and came from a wide range of backgrounds: entrepreneurs, academics, students, employees, consecrated religious, Christians, agnostics and atheists.
Lawrence's presentation was inspirational and captured the soul of the EoC; that putting people, relationships and principles before short term profit leads to a much richer communion, a seemingly providential meeting of the needs of staff, customers and those in need. Lawrence's company witnesses to the reality of unity and communion in many ways, not least in the diversity of their five senior partners: Roman Catholic, Methodist, Muslim, Buddhist and atheist; and in the cultures and regions where their company operates: Asia, South America and Europe. The EoC is for everyone.
The feedback from the new-comers was very positive. Many asked questions during the formal part of the presentation and also during the supper which followed. Even members of the Focolare movement, who are very familiar with the EOC, expressed how struck they were. The message came over load and clear, it is the Gospel through the Charism of the Ideal that is put into practice.
We feel that it was a foundational moment for us here in Melbourne and our zone. Despite the diversity of the audience, Lawrence didn't water down the spiritual underpinnings of the EoC. (It called to mind Chiara Lubich in Harlem addressing the followers of Imam W. D. Mohammed, she didn't water-down her Christianity yet the Muslims were ecstatic with what she had to say and rose to their feet to applaud her.) Lawrence gave the EoC in such a way, making himself one, that even the atheists in the audience felt the resonance of his presentation.
See a report on this event on Socialpolicyconnections
Lawrence's presentation may be viewed at:
Our introduction was also recorded: